Mapping our cultural heritage
We have developed methods for automated detection of cultural monuments and sites that are concealed by outfields and forestlands.
In Norway, it is the Directorate of Cultural Heritage in collaboration with county municipalities that is responsible for registering mapping cultural heritage sites and monuments.
In development planning, it is important to know where these sites are situated in order to prevent damage or loss of important historical and archaeological artefacts. However, until recently, the mapping of cultural heritage in outfields and forestlands has tended to be inaccurate and incomplete. NR has developed methods for automated detection of unmapped cultural heritage sites, using laser scanning images and deep learning. Laser scanning enables us to assess ground levels, and makes it easier to detect sites of significance.
The project is a collaboration between NR, The Directorate of Cultural Heritage in Norway, The Norwegian Institute for Cultural Heritage, The Museum of Cultural History and selected county administrations.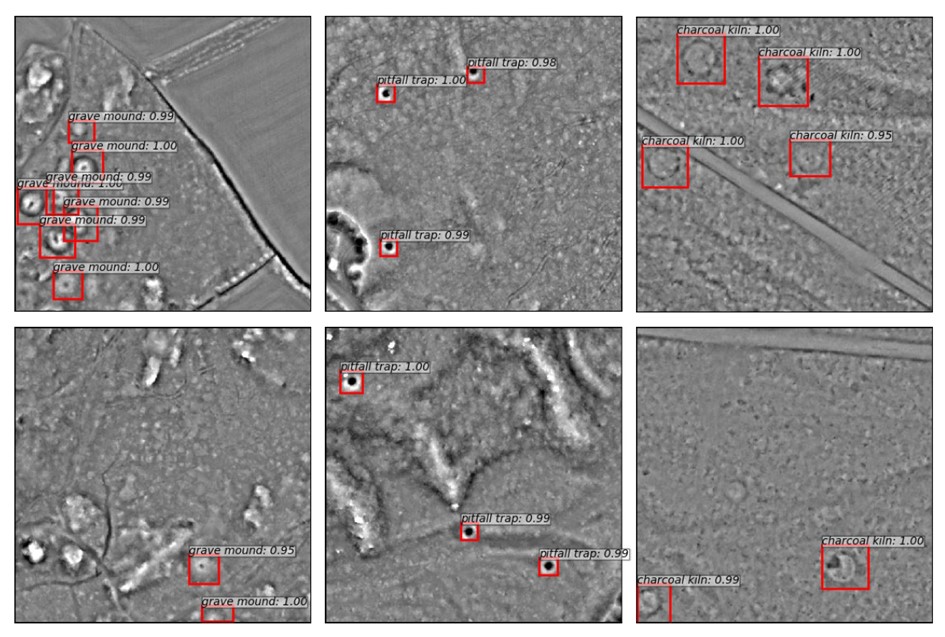 Image analysis with deep learning
The method uses the deep neural network Faster R-CNN to analyse laser scanning data from aircraft, and predicts the locations of potential cultural heritage sites, such as burial mounds, charcoal kilns and pitfall traps. The algorithm is trained on a million natural images, and subsequently fine-tuned with laser scanning images that feature three thousand known instances of various cultural heritage sites across Norway.
Charcoal kilns, iron extraction sites and burial mounds
During the project period, several notable discoveries were made. In Øystre Slidre in Innlandet county (previously Oppland), our software detected iron extraction sites and pitfall traps for deer in an area initially zoned for property development. Numerous charcoal kilns at Lesja were also discovered.
Sixteen burial mounds were identified in Vestfold and Telemark (previously Vestfold county municipality). These were situated in densely spruced woodland, and would have not been detected by standard aerial photography.
Project: CultSearcher
Partners: The Directorate of Cultural Heritage in Norway, The Norwegian Institute for Cultural Heritage (NIKU), The Museum of Cultural History, Vestfold county municipality, Oppland county municipality, Sør-Trøndelag county municipality
Period: 2003-2016